TangoConcert "Sweet Saint Denis" with TAXXI Tango XXI
Friday, March 30h, 9.30PM
Volkshaus, grosser Festsaal (large event hall), Rebgasse 14
TAXXI Tango XXI
DJ Duddie Mancini
Entrance fee CHF 40.- (TangoCaffé Lungo and AfterHour Party is included)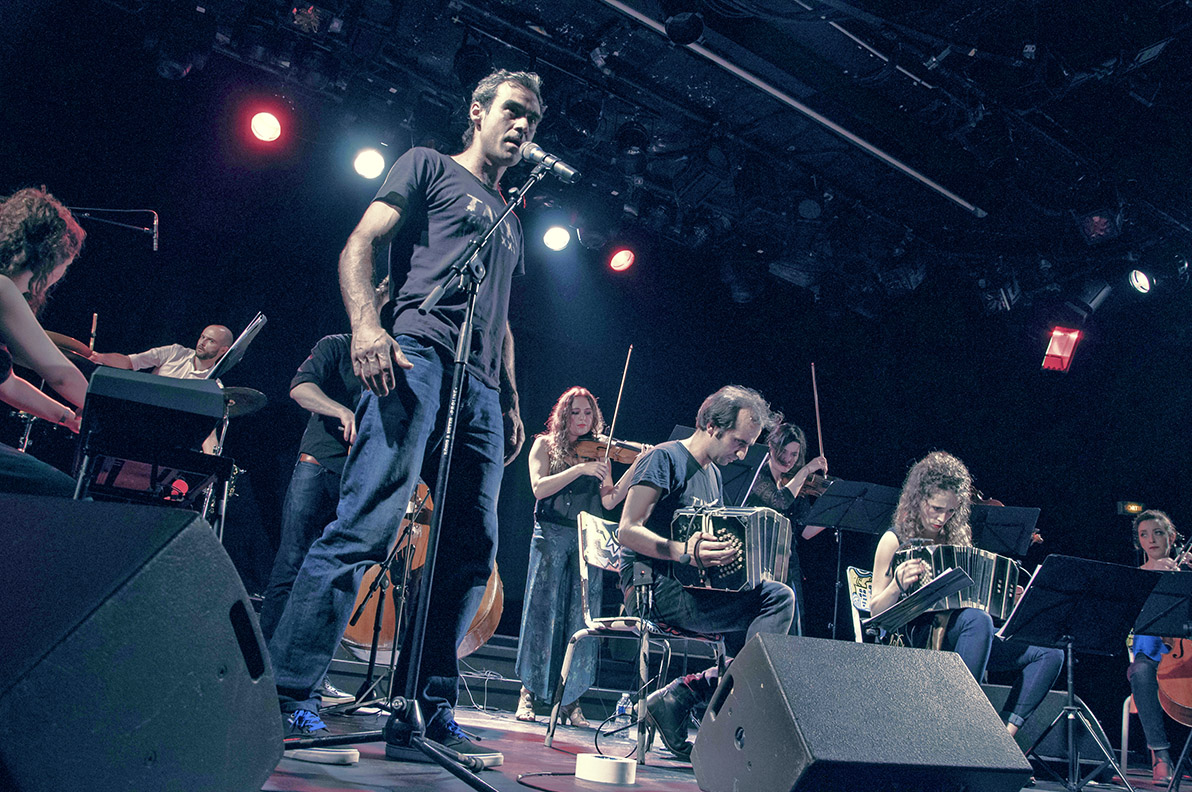 Pablo Gignoli (bandoneón, composition arrangements), Mathias Naón (violon), Romain de Mesmay (alto)
Véronica Votti (violoncello), Berivan Sart (piano), Lucas Eubel Frontini (Contrebasse), Sebastián Rossi (singer, composition)


Here comes a breath of fresh air for tango: 'TAXXI Tango XXI' is part of the tango movement which materialized in the late 90s in Buenos Aires.

The orchestra is dedicated to the composition and interpretation of modern Tango; for both dancing and listening, full of freedom, energy, and commitment.
The music races over the expressways, wanders through the city streets, watches the hustle and bustle of city life, and weaves its magic. The Tangos vigorously demonstrate the energy, anger, tenderness, and romance, which are united in a chaotic world.

The name 'TAXXI Tango XXI' epitomizes music which goes far beyond the traditional tango and maintains a direct connection to the maestros of the past (like Pugliese, Piazzolla).
Following 8 years playing as bandoneonist in the Orchestra Fernando Fierro, Pablo Gignoli founded TAXXI Tango XXI in 2014 in his adopted home, Paris. He brings together musicians who have played in tango orchestras such as J.J. Mosalini's Great Orchestra, Les Fleurs Noires, Silbando, and Melingo. With an original repertoire, featuring compositions by Pablo Gignoli and the singer Sebastián Rossi, the audience can take pleasure in the technical and expressive mastery of these great performers.

In the concert (also for dancing) in the Volkshaus they present their album "Sweet Saint Denis".
TangoShow with Guillermo Barrionuevo & Mariela Sametband
A game between man and woman: mischievous, carefree, and playful. Guillero Barrionuevo & Mariela Sametband are always good for surprises.
Guillermo Barrionuevo & Mariela Sametband