21. International TangoFestival & Marathon OsterTango 9th to 13th April, 2020
Tango Schule Basel has the great pleasure to present
the 21th International Tango Festival & Marathon
The topic is: The 5 elements
OsterTango 2020 in Basel.
It will take place from 9th to 13th April, 2020.

More details, will be deliverd here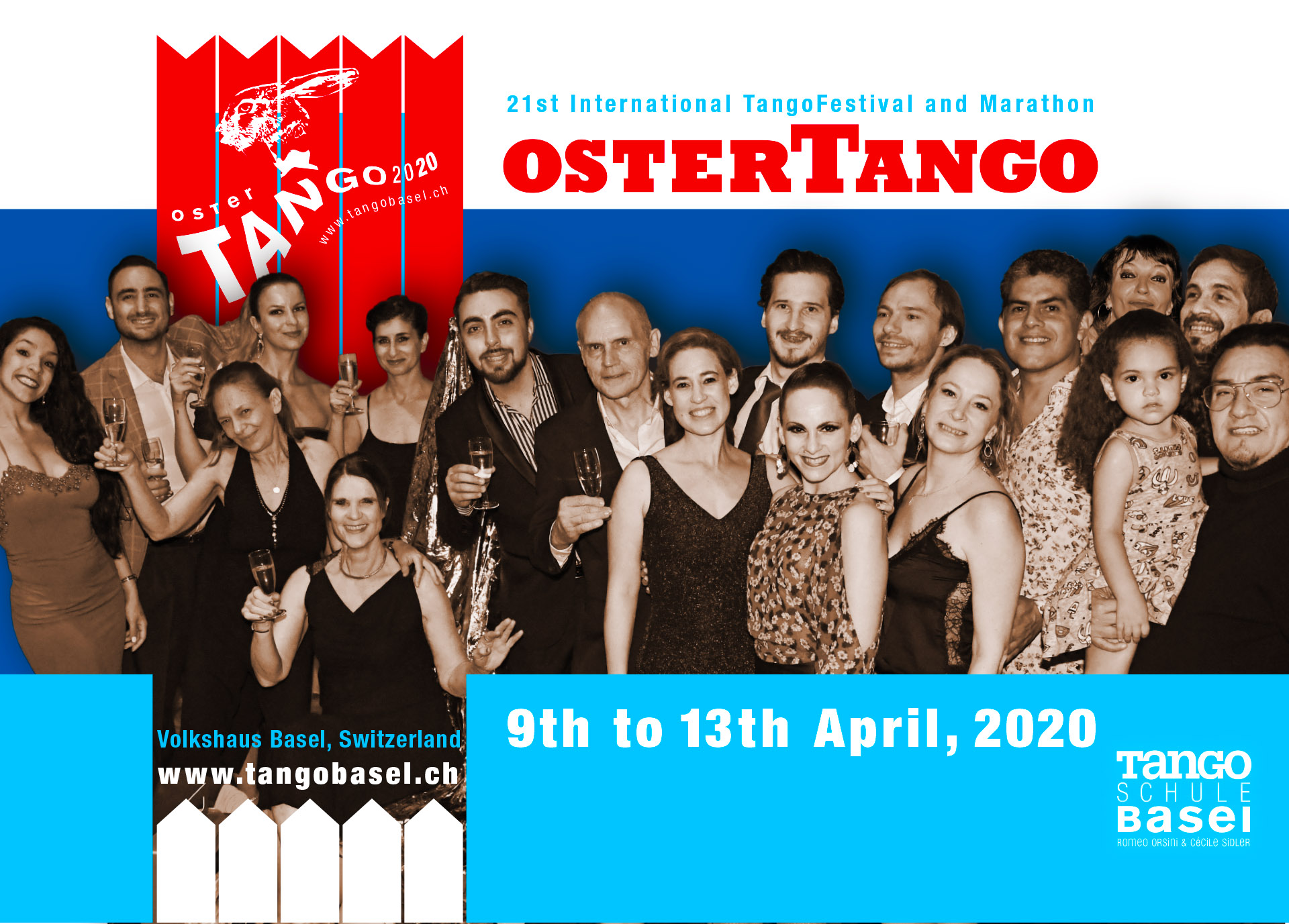 our dreamteam:
Clarisa Aragón, Fausto Carpino, Sivia Ceriano, Stephanie Fesneau,Mariela Sametband, Cécile Sidler, Jonathan Saavedra, Romeo Orsini, Juana Sepulveda, Sabrina Veliz, Pavel Ratynskii, Alexander Ryazonaov, Irina Peretyatko, Ruben Veliz, Pepa Palazón, Guillermos Barrionuevo, "Chicho" Mariano Frumboli
Mariano "Chicho" Frumboli & Juana Sepulveda
Ruben & Sabrina Veliz
Fausto Carpino & Stephanie Fesneau
Guillermo Barrionuevo & Mariela Sametband
Jonathan Saavedra & Claris Aragón
Pepa Palazón
Silvia Ceriani
SOLO TANGO ORQUESTA TIPICA
TANGHETTO
Bettina Maria
munay Shoes
Isabella Léon
comeFabia
ZISKAH
Massage
DJ Alexander Vassiliadis (Germany)
DJ Andrés Morya Egugía(Argentina/Switzerland)
DJane Bärbel Rücker (Denmark)
DJ Cristianel M Emme (Italyk)
DJ Duddie David Mancini (Italy)
DJane Irma Gross (Switzerland)
DJane Pepa Palazón (Argentina)
DJane Silvia Ceriani (Argentina)
This was the first time that we attended the Tango Festival in Basel and we loved it. The organization and program were excellent.

The festival was a wonderful experience for me. I learned a lot, met great people and changed my idea of tango again. I will long remember the teachers, facilities, and above all excellent organization with admiration!

This was once again beautiful ... Thank you very much, have enjoyed it very much. In particular, I am excited about the TangoCafecito in the hall- this is a fantastic supplement.

Thanks to Romeo and Cecilia for the good organization and the wonderful festival, according to me it's the best festival that exists at the moment.

Thank you for organizing this great festival. The Festival Opening "la Radio 2x4" and the evening ball with the Orchestra of Moscow I will retain fond memories of there.
Congratulations on a great festival - it is one of the best I know!